Lasting Memories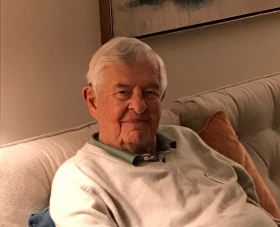 Donald Martin
Oct. 23, 1925-Aug. 24, 2017
Pleasanton, CA
Donald W. Martin passed away at the age of 91 on August 24th at his home in Pleasanton. He leaves his wife of 69 years, Joyce (Jodie) Martin, his sons Jeffrey and wife Wai Lan, Rick and his wife Carol, and Chris, along with seven grandchildren and two great granddaughters. He is also survived by his sister, Ruth Minter. He was preceded in death by his brother Paul Martin and sister Mary Rehm.
Born October 23, 1925 in Grinnell, Iowa to Winifred and Everett Martin, he was raised in Iowa, graduated from high school in Fort Dodge, and served in the Army Air Corps. He attended Grinnell College, where he received a degree in English and Journalism. He and Joyce (Jodie) Ogle were married in 1948. Don's career in the construction machinery business led him and Jodie to homes throughout the Midwest. The family moved to Moraga in 1971, where he pursued his passion for writing by starting Martin Communications, a small advertising agency.
While in Moraga, he and Jodie were members of the Moraga Valley Presbyterian Church. He volunteered his time supporting the Contact Care Center and Moraga Historical Society. Don was an active member in SIR, branch 146, a men's retirement group.
Don's favorite pastimes were writing, painting, and sculpting, and golf. He was also an avid pilot, flying his Cessna 172 throughout the Midwest. He and Jodie loved the many summers spent at their cabin in the Colorado Rockies. Don and Jodie moved in 2013 to Stoneridge Creek, a retirement community in Pleasanton.