Lasting Memories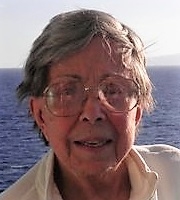 Geraldine P. Donaldson
May 29, 1921-Dec. 21, 2016
Paris, Tennessee
Geraldine P. Donaldson, who served her patients and the students of Pleasanton for decades as a physician and school trustee, died on Dec. 21, 2016 in Paris, Tennessee. Dr. Donaldson and her husband, Robert E. Donaldson, moved to Pleasanton in 1957, when they bought a home in Pleasanton Heights. Both served on the city planning commission. Later, she moved to a home on Foothill Road, where she lived until relocating to Paris, Tennessee, with her son, Robert, in 2013. Born to Frank Puerta and Maria Puerta (née Cuirana) in Pittsburg, CA. Both of Dr. Donaldson's parents were born in Spain. After growing up in Fresno, she went to the University of California, Berkeley, where she earned a nursing degree and then served in Hawaii during World War II. Returning to California, she went on to medical school, earning her MD at University of California, San Francisco, in 1951. First, a public health physician with Kaiser Permanente in Oakland, she then ran her private pediatric practice in Livermore where she specialized in treating patients with allergies, retiring at age 80. She also served as chief of staff at the Valley Memorial Hospital in Livermore, where she had surgical privileges. An enthusiastic world traveler, she visited South America, Antarctica, the Galapagos Islands, and helped provide medical care and training in remote clinics in Tibet and Russia, among other places. She was an avid back packer, gardener, nature photographer, dog lover, and cook who especially enjoyed entertaining. She was a member of Lynnewood United Methodist Church.
In addition, she served for decades on the Amador Valley Joint Union High School Board and the Pleasanton Elementary School Board where she advocated strongly for students and competitive wages for teachers. Bill Berck, who was the superintendent during part of her board tenure, wrote, "Geraldine may well have been the longest serving school board member in the history of the Amador Valley Joint Union High School District, as well as the first woman on the board and the only woman during most of her tenure. She was always prepared, and often her questioning and comments profoundly changed the nature of a policy under consideration." Geraldine is survived by her adopted children, Karen Donaldson, Jan Donaldson, and Robert Donaldson, her granddaughter, Amy Malcolm and her niece, Elaine Puerta. She was predeceased by her parents, ex-husband Robert, and her brother, Frank Puerta.
Memorial contributions may be made in the name of Dr. Geraldine P. Donaldson to Children's Hospital Oakland, full name: UCSF Benioff Children's Hospital Oakland, California, 747 52nd St, Oakland, CA 94609. Phone: (510) 428-3000.