Lasting Memories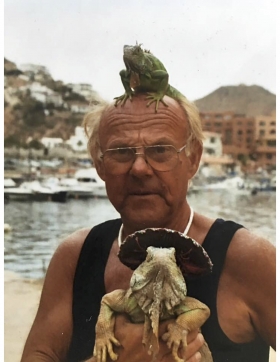 James Wulferdingen
Oct. 8, 1939-Aug. 22, 2018
Discovery Bay, California
James Louis Wulferdingen died of cancer on August 22, 2018. His charm and sense of humor were the last of his attributes to go, remarkable for a man who additionally had Alzheimer's. Jim was born in Berkeley, California in 1939, and was a fifth generation Berkeley native. Jim was an amazingly creative person with the ability to build just about anything, a talent he freely shared with friends and family. He was an animal lover and had many pets but his favorite was his parrot which would perch on his shoulder as he mowed the lawn. A fan of jazz all his life, Jim learned to play piano, guitar and harmonica as a child and performed in a local band. Jim began working as a plumber's assistant at the age of 11, and was given a thorough education in the use of plumbing, machine shop and hand tools which he refined all his life. At 17 Jim joined the Coast Guard, attending the academy in New London, Connecticut, and enjoyed the jazz scene in Greenwich Village, NY while on leave. He became a Chief Petty Officer while stationed in Honolulu, HI, where he traveled to islands such as Pohnpei and Yap with the Coast Guard and reveled in his role as helper and protector of people throughout Micronesia. He married Nancy McCormick in 1959 and had his first child in Honolulu.
Returning to the Bay Area, Jim became a union electrician and eventually settled in Pleasanton, California, where he raised four children. In Pleasanton, Jim built several school playgrounds and designed and built a stage with multi-story reading nooks behind it for his children's elementary school. Neighborhood children considered Jim their personal bike mechanic, and he took great pleasure in creating custom built vehicles for his own children. He met his wife and best friend Sharron in Pleasanton, and they married in1983, eventually moving to Discovery Bay, where his lifelong love of water and boats was thoroughly enjoyed. Jim and Sharron traveled together far and wide, shared a love of sports, good wine and each other's company.
Jim is survived by his wife of 35 years Sharron, his sister Phyllis Johnstone, his children Julie, Jamie, Chris and Scott and grandchildren Roberto, Rafael, Matt, Alex, Sebastian, Oliver, Jay and Natalie. Jim was a caring stepfather to his wife's children Mark, Scott, Kevin and Holly, and grandpa to their children Miles, Zac, Harper, Ashlyn, Emerson, Daniel, and Addison.