Lasting Memories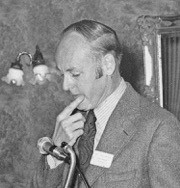 John Bernard Edmands
July 8, 1924-April 8, 2017
Torquay, UK, United Kingdom
Submitted by Molly A. Walker
Retired Northern California newspaper publisher John Bernard Edmands passed away at a rest home in Torquay, England, on April 8, 2017, following a short illness. For 30 years, he was editor and publisher of the Pleasanton Times in Pleasanton, California, which later became The Times.
Born in Moose Jaw, Saskatchewan, Canada, on July 8, 1924, to Kathleen and Alfred Edmands, he was the youngest of six children. His father was a railroad worker and his mother was a housewife. None of his siblings—Winston, Kathleen, Marjorie, Louis and Paul—survives him.
Edmands attended school in Moose Jaw and later joined the navy. He worked briefly in Vancouver, B.C., and arrived in the United States in early 1950 to begin a job as editor of the Tulelake Reporter, a small weekly in Northern California. To purchase the newspaper, he partnered with Patrick Peabody, a publisher from San Jose, California, and Lyle Hass, a Tulelake resident who ran the newspaper's print shop. In fall 1952, they sold the news operation to Mr. and Mrs. L. M. Lester of Pleasanton.
Edmands soon relocated to Pleasanton, where he became editor and publisher of the Pleasanton Times through a partnership with Patrick Peabody and with Joseph C. Houghteling, who was a part owner in a number of San Francisco Peninsula newspapers. Edmands and Houghteling later purchased Peabody's interest. In the early 1970s, Dean Lesher of Lesher Communications purchased a major interest in the newspaper, retaining Edmands as editor and publisher until he retired in the very early 1980s.
Edmands became a naturalized American citizen within a few years of his arrival in the United States. He was a sought-after speaker and tireless champion of his adopted community of Pleasanton, actively supporting local school bonds and other civic causes. He worked to bring new business and industry to the Amador Valley, served on the city's General Plan Committee, and was a director of the Amador-Livermore Valley Historical Society (now the Museum on Main) and a member of many community groups.
In 1955, he married Eugenia Marie (O'Shea) Walker, who had three children. She was both his life partner and business partner, serving as office manager at The Times before she passed away in 1981. Together they raised four children, all of whom spent time working at the newspaper.
Edmands married Joyce Taylor in 1982. They lived in Pleasanton and Florida, and then moved to Europe, where they enjoyed traveling to many international ports. They resided in Marbella, Spain, and the English communities of Torquay, Cheltenham, and Bournemouth for some 30 years until her death in 2014.
He is survived by a daughter, Theresa Smith of San Francisco, and two granddaughters, Rachel Smith of San Francisco and Molly Smith of Tujunga, California; stepdaughter Denise Foggin (John) of Baughurst, England, and their children, Thomas Foggin and Lucy Foggin; stepdaughter Molly A. Walker (George Csicsery) of Oakland, California; stepdaughter Patricia W. Cleveland (Forrest) of Prosser, Washington, and their children; and a stepson, James H. Walker (Deirdree) of Jackson, Australia, and their children and grandchildren.
Funeral services are pending in the U.K.