Lasting Memories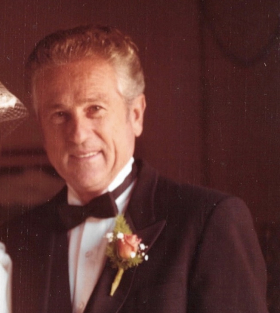 John J. Sevo, Sr.
Dec. 19, 1925-Dec. 17, 2021
Pleasanton, California
The dash between the dates represents a lifetime of love, laughter, happiness and joy. The memories we hold dear of a wonderful man that fought in World War II then came home to marry his sweetheart, Thelma, will forever be written onto our hearts. A loving husband of 70 years, a wonderful father, a fabulous grandfather, a great grandfather, a sweet father-in-law, devoted uncle and little brother. He will always be remembered and have a place in our hearts.
John was born in Oakland to Anthony and Anzula Sevo. He graduated from Castlemont High School and after returning from his Military service worked as a butcher for over 30 years. He also enjoyed a second career as a Jelly Belly Sales Representative with his friend of over 80 years, Domenic Purpura. John and Thelma moved to Pleasanton in 1967 where they raised their children John Sevo, Jr. (Candy) of Oakdale, Cheryl Beeson (David) of Pleasanton, and Randall Sevo (Heather) of Modesto. After retirement John enjoyed restoring old trucks, working on home and garden projects, and spending time with his grandchildren Chris Sullivan (Stacey), Michelle Sullivan (Liam), Tyler Sevo (Jessica), Brittney Weinerth (John), Andrew Beeson (Alexandra), Adam Beeson, Miranda Sevo, Eleanor Sevo and great grandchildren Wyatt, Sadie, Callum, Jackson and Evelyn. He is preceded in death by his sisters Lucille Augello, Mary Merrill, Anne Augello and sister-in-law, Betty Cooke.
A celebration of John's life will take place in 2022. In lieu of flowers please donate to the charity of your choice.