Lasting Memories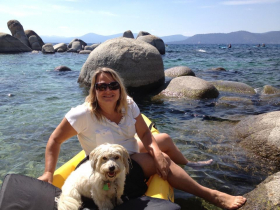 Lisa Marie Gallagher
May 19, 1965-Oct. 8, 2021
Pleasanton, California
Lisa Marie Gallagher died peacefully on the morning of October 8, 2021, in Pleasanton, California, at the age of 56.
Lisa is survived by her husband James (Jim) Gallagher, children, Brittany Bryan (30) and Cody Gallagher (21), and grandchildren, Calvin Bryan (4), Summer Bryan (16 months), and Macie Bryan (one month).
Lisa was born in Ponca City, OK to Stan and Carole Kullbom. She graduated from Cal Poly San Luis Obisbo with a degree in Computer Science. She married Rick Cancilla, in 1985. Upon moving to Grover Beach, the couple welcomed their first child, Brittany. After Rick's passing, Lisa married Jim Gallagher in 1998, and later the family celebrated the birth of Cody.
Lisa was a beloved member of her church and local communities and quickly became known for her deep relationships, her no-nonsense approach to life, her excellent cooking, her appetite for fun, and the ferocity of her love. To be loved by Lisa was to know how rich and abiding love can be. Despite the difficulties in her life, she was also recognized for her laugh, which was big and open and frequently punctuated her conversations.
The world is better because Lisa was in it. Those of us who were lucky to love and be loved by Lisa miss her already and carry her in our hearts.
A celebration of life service is scheduled for 4 pm on Sunday, October 24, at Fountain Church in Pleasanton, California, with a reception to follow. Ken Wolter will officiate the ceremony. All are welcome to attend and celebrate Lisa's life. Condolences and fond memories of Lisa can be sent to jim@intelli-design.com