Lasting Memories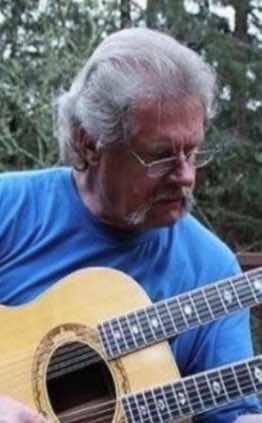 Stephen Andor Helgeson
May 29, 1950-June 12, 2020
Eureka, California
On June 12, 2020, Steve Helgeson, Mr. Moonstone, lost his two-year battle with cancer. It was two weeks after his 70th birthday.
Steve was born in Richland, Washington, to Lew and Carolyn Helgeson; Lew a nuclear physicist and Carolyn an artist and musician. They moved to Pleasanton, California in 1956, where Steve spent his childhood running through and exploring the local fields and hills with his brother, Peter, and sister, Julie. He displayed an exceptional ability to design and construct at an early age, building a three-story treehouse and more than a few go-carts. Among his favorite childhood hobbies was making rockets with his brother, Peter, and conducting various experiments, many of which resulted in an explosion of some sort.
In his teens, Steve was a falconer, raising sparrow hawks and his red-tailed hawk, Ike. Steve adored Ike. He would let Ike fly the neighborhood during the day and, with the help of liver treats, had trained him to return home in the evening.
Steve graduated from Amador High School in 1968, after which he worked for several years at the GM Plant in Fremont. He also traveled extensively with his family and was able to see much of the world. In 1970, he bought his first guitar in Japan, which he learned to play as he traveled throughout Europe. Upon his return from Europe, he moved to Humboldt County and attended College of the Redwoods where, with a continued interest in falconry and birds of prey, he pursued a degree in wildlife management.
It was at College of the Redwoods, while taking a woodworking class, that Steve decided to build an acoustic bass. His inspiration came from hanging out in a meadow in Yosemite with a bunch of guitar players. They were lacking an acoustic bass, so Steve built one. The seed was planted. Through self-teaching and a considerable amount of trial and error, Steve would move on to build electric guitars, leading to the birth of Moonstone Guitars. Under the Moonstone moniker, Steve enjoyed great success, building unbelievable guitars for numerous high-profile clients. He was a highly gifted artist, a master who was considered by many to be one of the greatest luthiers of his time.
When he wasn't building guitars, Steve immensely enjoyed flying remote planes and helicopters with his flying buddies. He enjoyed riding his motorcycle with his doggle-clad dog, cruising in his Corvette, and being the pace car driver in stock car races.
Steve is survived by his wife of 24 years, Sandy Helgeson; his two daughters, Heidi Olsen Hessler (Nya) of Fortuna, California, and Micah Helgeson-McDonald (Michael), of Blue Lake, California; his grandchildren, Liam, Kai, Paxton, Koa, Phoenix, and Penelope; his brother Peter Helgeson of Modesto, California; his sister Julie Helgeson-Wilkins (Mark), and nephew Matthew Wilkins of Soulsbyville, California.
He will be missed by the many great friends he made over the years, and the many workers who assisted and apprenticed with him. Steve made a huge impact on so many lives.
A celebration of life will be held on a future date, when we can gather in larger numbers.