Lasting Memories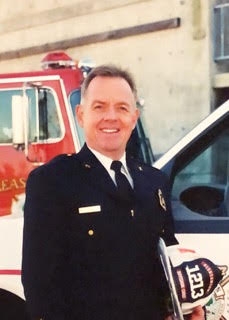 William Walburn Halvorsen
Sept. 24, 1945-Aug. 29, 2018
Livermore, CA
William Walburn Halvorsen, a 50 year resident of Livermore, died on August 29, 2018. He was 72 years old.
Born on September 24, 1945 in Oakland, CA; "Billy" grew up on 77th Ave and was an Oakland Tribune newspaper boy for 4 years. The family then moved to Castro Valley where he graduated from Castro Valley High School in 1963. He immediately enlisted for the United States Marine Corps serving as a combat aircrew member in Santo Domingo (1965) and a tour in Vietnam (1966-1967). Bill was awarded the Purple Heart and Air Medal among other citations during his time in the Marine Corps. In later years, Bill and his wife Penny would gather with his HMM-163 brothers at their "Popasmoke" USMC Helicopter Combat AirCrew Reunions to unite with … "such good men".
He started his "whatta job!" at the Lawrence Livermore National Laboratory Fire Department in 1969. In 1973, he joined the Pleasanton Fire Department which merged into the Livermore-Pleasanton Fire Department where he dedicated the rest of his 32 years of service. He started as a firefighter and retired as a Fire Division Chief in 2002, knowing his firefighters were his "second family".
Bill met and married his true love Penny after they took a chance date at Harrah's Wheel of Fortune in Tahoe in 1971. They knew from the start Bill and Penny "made a lot of cents" and Bill began the best years of his life after that spin. Bill committed his life to Jesus Christ in 1977. He was a member of Firefighters for Christ and Cornerstone Fellowship Church. Bill and Penny raised their 3 sons in Livermore and Bill was extremely proud of them. When the sons started their own families, he knew family times meant that "Ba" (short for Bestefar) would be enjoying their eight grandchildren.
Bill loved home projects and the challenge of fixing things. Bill and Penny's trips to see their family and trips to Disneyland were almost regular routines while that easy seashore drive with Penny in the Corvette convertible was part of their favorite retirement times. With over 50 wineries in the Livermore Valley, Bill figured there was room for one more and his sons named it "Halvorsen Family Vineyard". With 50 Bourdeaux vines, their yard indeed resembled a mini vineyard complete with a pergola. Bill & Penny knew their little vineyard and their wine was a time for family enjoyment with the vineyard seasons mirroring their own life cycles.
In Bill's own words: "I still had my wild moments, but I knew who the Vine and the Branches were...next to Jesus Christ, our Family is the greatest gift…"
He is preceded in death by his father Halvor, his mother Lois and his younger sister, Sigrid. He is survived by his wife of 47 years Penny, his sons Andy (Tina), Peter (Allison) and Paul (Alana) and grandchildren - Emma, Sara, Juliet, Lily, Luke, Jack, Loey and William, his older sister Tina and many other loving family members.
Everyone is invited to a Celebration of Life Service on September 8th at 10:30 am at Cornerstone Fellowship, 348 N. Canyons Pkwy in Livermore. Burial is to be scheduled with full military honors at Arlington National Cemetery.